Details on the giveaway are at the end of this post
Once upon a time, I took a wonderful revising class with Mandy Hubbard (who is as amazing as everyone says, and she has a cow. That's not what makes her amazing, but still pretty cool). In this class, I met quite a few talented writers, including the lovely Jennifer Ellision.
Fast-forward 15 months or so, and Jen announces she's self-publishing the debut novel she was working on in Mandy's class. Jen's novel already sounded good back then, and after reading an ARC, I know it's even better that what I thought! Jen and I have been in very regular contact as we go through the self-publishing process at around the same time. We have behind-the-scenes emails and cheer each other.
But, this doesn't take anything away from the awesomeness that is her main character, Bree or the way a certain someone is totally swoon-worthy, or the fact that despite the fact that I don't read a lot of fantasy, I still couldn't put this book down.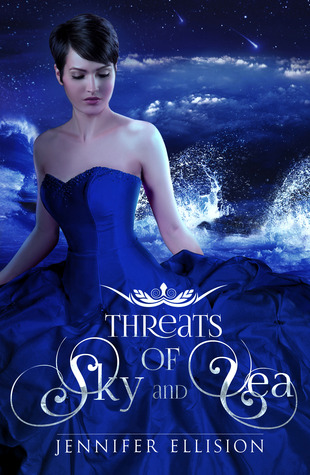 Sixteen year-old Breena Perdit has spent her life as a barmaid, innocent to her father's past and happily free from the Elemental gifts that would condemn her to a life in the Egrian King's army. Until the day that three Elemental soldiers recognize her father as a traitor to the throne and Bree's father is thrown in jail—along with the secrets from his last mission as the King's assassin. Secrets that could help the King win a war. Secrets he refuses to share. Desperate to escape before the King's capricious whims prove her and her father's downfall, Bree bargains with him: information for their lives. It's a good trade. And she has faith she'll get them both out of the King's grasp with time.

But that was before the discovery that she's the weapon the King's been waiting for in his war. Now, time is running out. To save her father's life and understand her own, Bree must unravel the knot of her father's past before the King takes his life– and uses her to bring a nation to its knees
You can find the book on Amazon, B&N and other online retailers.
Here are a few quotes I loved from the book:
"If you tell me one more time that I'm using the wrong fork for a part of a meal, I swear I'll show them exactly how multi-functional the utensil can be."
"Wishes, I am finding, are fickle things when they turn on you."
"I have been thinking", he says. Kingdoms have been known to fall in the wake of his thoughts.
 And more! 
The speculative fiction magazine Inaccurate realities reviewed it and loved it! 🙂
Tonight, Jen is hosting a #TOSAS Twitter Party, you can find all info here and you can ask her questions by leaving comments on her blog post.
And the giveaway?
Well, today is all about TOSAS and Jen…:) so all you have to do is head over Jen's Twitter Party blog post by clicking here and ask her a question about TOSAS, her breakfast on this day, about elementals, whatever comes to your mind. Everyone who leaves a comment, asking her a question ahead of time will be entered into my giveaway…I'll use a random generator number tomorrow to pick the winner of a paperback copy of TOSAS (and I will toss in a $25 donation to the book/literacy project of your choice on DonorsChoose.org)
🙂