Fans of New Adult novels, of music, of reality TV, of fun and sexy novels, of finding yourself novels…MORE THAN MUSIC is all that is more.
This was my very brief review right after reading it: Couldn't put it down! MORE THAN MUSIC is like Jared to Maddie: addictive, sweet and sexy, funny and real. (and that elevator scene? Wow!)
What is MORE THAN MUSIC about?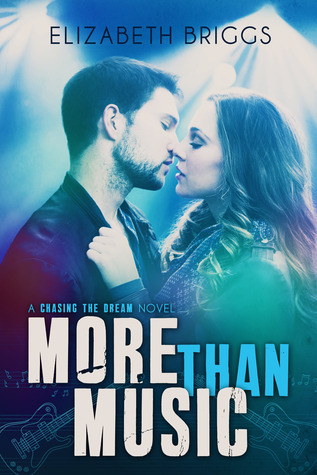 From Goodreads.com: Music major Maddie Taylor seems to have her life all figured out. She's just finished her junior year of college, has a summer internship lined up with the LA Philharmonic, and plans to go to grad school to write movie scores. Only her roommates know she practices guitar every night and secretly dreams of a louder life. But geeky girls like her don't get to be rock stars.
Tattooed singer Jared Cross has a new girl every week, but when he catches Maddie playing one of his songs, she attracts his attention in an unexpected way. His band needs a fourth member for The Sound, a reality TV show competition—and he wants her. Though Maddie refuses to be another notch on Jared's bedpost, she agrees to risk everything for the chance to be a rock star.
Once on the show, Maddie discovers there's more to Jared behind his flirty smile, and with each performance their attraction becomes impossible to ignore. When the show pressures Jared to flaunt his player image, they're forced to keep their relationship secret, but Maddie can't help but want something real.
As the competition heats up, Jared will do whatever it takes for his band to win, and Maddie must decide if following her dream is worth losing her heart.
—-
AUTHOR BIO
Elizabeth Briggs is a full-time geek who writes books for teens and adults. She plays the guitar, mentors at-risk teens, and volunteers with a dog rescue group. She lives in Los Angeles with her husband and a pack of small, fluffy dogs.
Author Links:
Where to find it?
Amazon|Barnes & Noble|iTunes|Kobo | Smashwords |All Romance
The Playlist
Giveaways
Blitz-wide giveaway
e-book giveaway
To win an e-book copy of MORE THAN MUSIC, simply leave a comment on this post. I'll randomly pick the winner
CONGRATS AGAIN ELIZABETH!